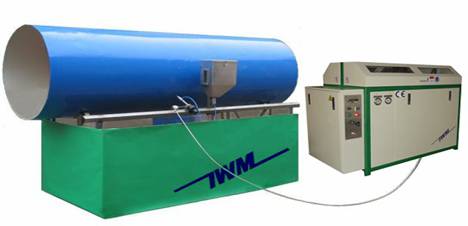 New Product:
water jet pipe cutter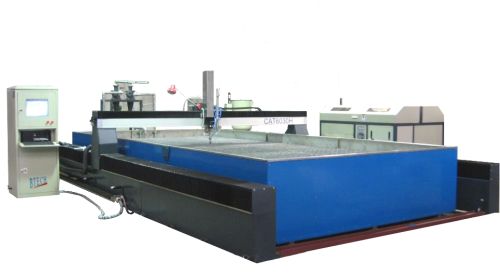 New Product:
Large size machine
Models and spec
Spare Parts and Garnet
Technical information
CNC Software
Pictures of Waterjet
Trouble shooting guide
Videos of cutting
Job shops
Site Map

links to other waterjet manufacturers
FLOW
OMAX
KMT
JETEDGE
























What is an abrasive waterjet ?

Abrasive or water only jet cutting machine uses the technology of high pressure water typically between 30,000 psi and 90,000 psi, to create extremely concentrated force to cut materials (wear by abrasion). A water only cutter pressurizes water and shoot out a stream of pure water flow (without abrasive)

through an orifice to cut materials such as foam, rubber, plastic, cloth, carpet and wood. On the other hand, an abrasive waterjet mixes abrasive garnet to a pressurized water stream to penetrate and separate(cut) materials. High pressure water, at ultra sonic speed, accelerates the abrasive to grind or erode the material and to cause the separation of the material. Examples are: stainless steel, titanium, glass, ceramic tile, marble and granite. When cutting metal, the process yields very little heat therefore no heat affected zone (HAZ), and hence in most cases will not require further heat treatment. It is commonly considered as a "cold cut" process and therefore is safe for flammable materials such as plastic and polymers. With a reasonable cutting speed setting, the edge quality resulted are often of satisfactory. Combined with CNC technology, ultra high pressure water cutting is a very handy and versatile cutting equipment with affordable price for stone cutting and metal working in job shops. Sometimes, experienced engineers can diy to make their own machine for fun and for business. Like some other cutting tools, waterjet yields a "V" shaped separation edge, often know as taper. With new technology of multi-axis ( 4 or 5 axis) cutting head, the degree of taper can be largely reduced, or even eliminated. To find more information, click how water jet machines work. Nowadays, water cutter are mostly made in USA, some made in Europe and some made in China.

A complete waterjet usually includes a CNC driven cutting table with a catch tank. The catch tank is filled up with water to dampen the jet force which could damage the bottom of the tank. An abrasive hopper is also a common optional addition to the system. Other options include water tratement equipments such as water softener and filter, abrasive removal system and oil chiller.






Highlights of IWM Waterjet

Ultra high and stable pressure for fast cutting and smooth edge finish.
Overpass or Cantilever Style cutting tables.
Stainless steel catch tank for durable use.
PC based CNC and MS Windows based contorller software, easy to learn and operate.
Compatible to dxf and G-code, nesting is also available.
Quick setup and easy programming (make money on short runs).
High accuracy control of cutting, up to 0.1mm.
Special pressure ramping technique to prevent delaminating (cracking) brittle materials while piercing (drilling).
Cut more than 100mm (4 inches) sheet/plate metal at different cutting speed with waterjet.
Yields kerf width (the width of the separation) at about 0.8mm (1/32 inch).
Steady cutting jet stream, no abrasive output interruption.
Low cutting consumable cost. Abrasive garnet and spare parts on sale.




Major Waterjet Applications:




Automobile, boat and aircraft manufacturing industry -- to cut irregular shaped plastic and metal parts, often uses robots for motion control.
Glass product industry -- whether it is artistic work or glass cover of a product, wide range of application in glass industry.
Construction industry -- to cut ceramic tile, mosaic, and marble, or granite for home, commercial building or even pavement decoration. It is often used to cut inlaid designs of marble/granite medallions.
Custom fabricated gaskets or other rubber parts for both OEM and individual users.
Machine shops -- used as general purpose metal cutting machine tool.
Pipe cutting -- used to cut pipe of various materials, or make special designs on the wall of pipes.

Comparison of major cutting tools:
Waterjet machines -- fast speed, able to cut thick material, good accuracy and finishing surface. The most outstanding advantage is its versatility, it cuts virtually anything with no heat affected zone(HAZ). The second advantage is its ability to cut thick materials, metal or non-metal. This puts water cutter ahead of laser and plasma cutters. Laser cuts fast, but mostly for 1/2 inch or less thick metal, not to mention laser machine price is usually much higher than that of high pressure water cutting machine. High power plasma can cut thicker metal, but the result edge quality is poor, and it can not cut on non-metal. Water cutter is widely used as cutting machine for metal, glass, ceramic tile, marble, and granite. Typically it can cut as much as 4" thick of steel (100mm). Some burr occurs near cut. Check out IWM's current Waterjet on Sale promotion.

Wire EDM -- slow cutting speed, but it is able to cut very thick material. EDM has very high accuracy and excellent surface finish. No burr, a little HAZ. The down side is only electrically conductive materials can be cut with EDM. Also there must be a way to drill a hole for putting through the wire for cutting.

Laser -- good speed and precise cut when cutting thin material. Laser yields little burr, a little HAZ. Laser is suitable to cut non-reflective mild steel. A 6kw laster can cut as much as 25mm (1 inch) steel. Laser cutting system is also of high price than other cutting tools.

Plasma -- cuts at high speeds and generates heat that leaves rough edges. Accuracy is not very high with plasma cutting. Plasma cutting Can cut electrically conductive materials, up to 6" of aluminum. Process yields HAZ. Special gas need to assist the process. Reasonable price of machine.

For more detailed information, including comparison to milling and punch,
see Comparison Matrix of various cutters.